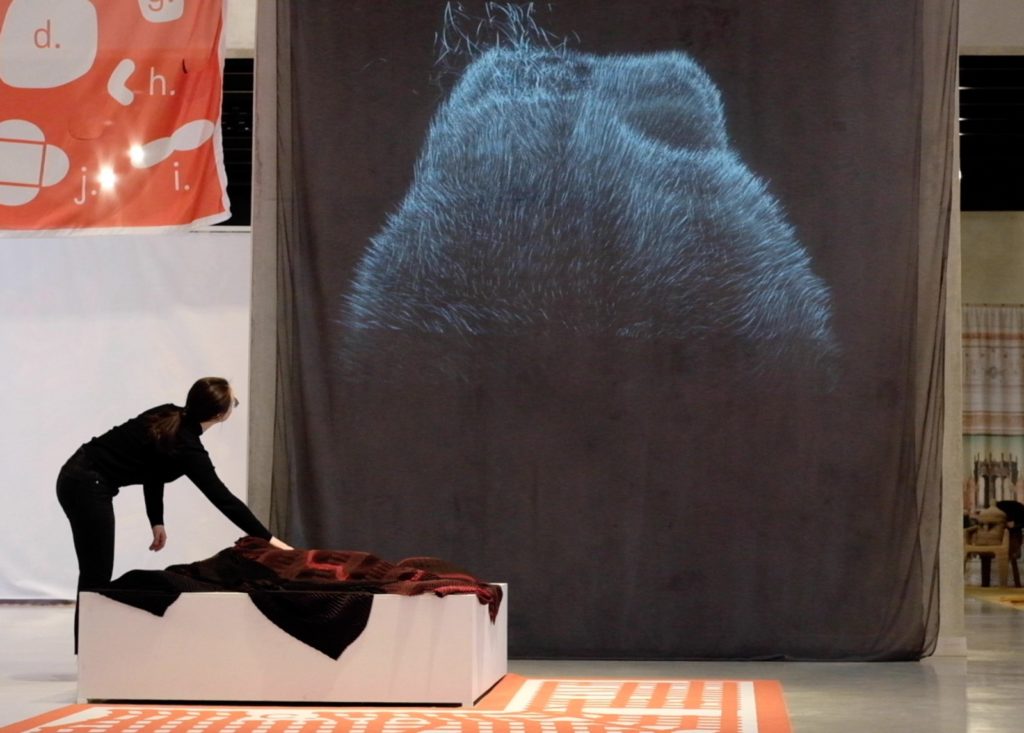 "Topographie Digitale" is an interactive installation create with DataPaulette. This landscape uses electrically functionalized and pleated textiles as sensitive surfaces reacting to touch to interact with a video-projected digital clone of this scenery.
The project is an illustration of hybridization between our scientific discovery and traditional craftsmanship as a "creole" technique, a fundamental subject of research for our collective. We have, in this case, collaborated with the pleating specialist Maison Lognon, to investigate the combination of augmenting a textile both with new electrical functionality using in-situ polymerization, as well as the new physical affordances introduced by the patterns and textures of the pleated fabric. The pleated fabric, functionalized by this chemical treatment and the electronic system give birth to a material with a mixed heritage which is both technological and traditional, a prefiguration of a potential emerging craft.
The combination of crafts and technologies is an alternative to rethink the place of digital in our society in a more resilient way.
Exhibitions
Intangibles Losses, part of the conference on Tangible, Embedded and Embodied Interaction (TEI) 2021, February 2021 at Art Space 5020 in Salzburg, Austria.
Ars Electronica 2020, In Kepler's Garden, Festival for Art, Technology & Society. 9-13 Sept 2020, at JKU Campus, Linz.
De toutes façons… Design graphique et textile, from October 2019 to March 2020, at Le Signe, Centre National du Graphisme, Chaumont, France.
Awards
Nomination at STARTS Prize 2020 — STARTS (Science, Technology & the Arts) is an initiative of the European Commission, launched under the Horizon 2020 research and innovation programme. Its purpose is to support collaborations between artists, scientists, engineers and researchers to develop more creative, inclusive, and sustainable technologies.
Publications
De Bie, M., & Briot, A. (2021). Le textile électronique, un savoir-faire créole. Dans MàJ Design, environnements techniques & pratiques exploratoires (p. 29‑32). Cité du design/Esadse. Ouvrage sous la direction de Gwenaëlle Bertrand, Maxime Favard et David-Olivier Lartigaud.
Audrey Briot, Martin De Bie, Alice Giordani, Leon Denise, and Cedric Honnet. 2021. Topographie Digitale. In TEI '21: ACM ACM International Conference on Tangible, Embedded and Embodied Interaction, Feb 14–17, 2021, Salzburg, Austria. ACM, New York, NY, USA, 4 pages. https://doi.org/10. 1145/1122445.1122456
Topographie Digitale in CyberArts 2020 Prix Ars Electronica. STARTS Prize '20 Ed. Hannes Leopoldseder, Christine Schöpf, Gerfried Stocker, graphic design by Gerhard Kirchschläger, English, 2020. 256 pp., 500 ills. softcover, 16.50 x 24.10 cm, ISBN 978-3-7757-4761-5, p. 252
——————————————————
MIT Media Lab announcing Topographie Digitale at Ars Electronica Festival 2020.